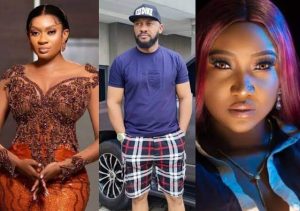 •May, Yul & Judy
May Edochie, first wife of Nollywood actor; Yul Edochie, has filed a suit for divorce from him.
The woman, who many believed has been passing through traumatizing moments not just from the loss of a son months ago but also from the painful reality that she is losing her marital home to someone else, it was learnt, mustered enough courage to seek divorce at last.
It was learnt that May is being represented by Femi Falana and Eculaw group. She demanding N100m in damages from Yul and his second wife, Judy.
She is accusing Yul and Judy of commiting the offence of adultery against her.
The DPA Family Law Clinic shared an update of the couple's marital life that is allegedly well on a slippery slope.
The Family Law Clinic noted that Judy and Yul are aware of the lawsuit as they have received copies of the Court processes.
It was also alleged that "both Yul and Judy are avoiding service of the process upon them. The court bailiff has tried so many times to serve them in accordance with the rules of court. But they have evaded service of court process. Despite the braggadocio and the social media stunts, Yul Edochie and Judy are facing serious legal challenges and they seem ill-prepared for them, given the fact that they have been evading service of process.
"May has also filed for an order of court restraining Yul from accessing their former matrimonial home. The businesswoman who cited safety concerns, alleged that the actor has been erratic, irrational, aggressive and increasingly threatening.
She noted that Yul acts like he is "under some influence, the full extent or scope of which we are yet to ascertain," it stated.
.