Dr. Babatunde Adeyemo, a journalist, realtor, an anti – corruption ambassador, young entrepreneur and youths role model, is the CEO of Pelican Valley Nigeria Limited, a foremost real estate firm in Ogun State. The astute believer in Nigerian project shares some of his ideas, life experiences and real
Getting documents such as building approvals…Governors contents ..etc
within pelican Valley Nig Ltd properties come seamlessly. What is the secret?
Getting building approval in our estate is not new to us. Presently, Pelican Valley Estate is the fastest growing estate in Oguns state to the glory of God. It is not by our power, All glories belong to God and I would want to use this opportunity to say a big, 'Thank You' to appreciate the commissioner for urban and physical planning and the Ogun State Government, Tpl, Tunji Odunlami for being strict and adhering to the building ethics and principles. Before now, even when you have all the requirements, you have to beg, lobby and pass through all channels, challenges and a lot of bereaucratic bottlenecks before you can get building approval but since the advent of this administration and commissioner for urban and physical planning, he has instilled proficiency and discipline in the system, such that we don't have a choice except to obey. You know when you want to do circumcision, it is always painful for the male child to be circumcised but when the circumcision is done and the wound is healed, it becomes a thing of pride to the circumcised. Kudos to the commissioner for instilling that discipline. So, getting building approval in our estate is something that is simple and easy. And what makes it simple is because we have a full Government approval for our layout. When your estate has a full government approved layout, it won't be difficult for your clients to have building approval. That is why we have it easy in our estate. in less than two weeks, people get approval for buildings in our estate.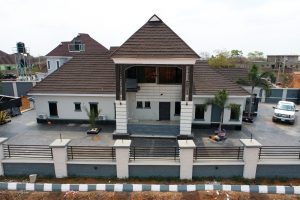 How is this possible since the impression out there is that the Commissioner in charge of the ministry is a very difficult person?
When people say the commissioner is difficult, I will like to cite an example of my experience with some one most perceived as difficult. When I was writing my Masters project at University of Lagos, my project supervisor goes by the name Dr. Fatai Badru and I think he is now Professor Fatai Badru. He was being tagged as extremely difficult person. In fact, when they assigned me to him, people were saying, "Ah ! O boy you're finished o" But when I met Prof. Badru, truly I met people who were still writing their projects for over five years and unable to finish but when I met him, I realised that the man was not a difficult person. He would call me by 2.am to explain some portions in my project, he so much scrutinised my project to the extent that he would be checking punctuations in my project if they were in the right places. At a time, I was sleeping in his office but at the end of the day, when I was defending my project, I found it extremely easy to defend it before the project defense panel. It was as if I was lecturing the panelists.
How did it all turn out at last ?
At the end of the day, I got five straight points. That shot up my CPGA. Since that time, I found it quite easy to really relate with someone people perceived as very difficult. The same thing goes for this commissioner for urban and physical planning. He would not take nonsense, he wouldn't take rubbish. He would tell you, 'these are the rules, follow it to the letter.' And when you follow it to the letter, it is to your benefits. Today, following the rules to the letter made us get government approval in Pelican Brief Estate. Pelican Brief is the fastest growing estate in Ogun State because of our full approval status. We have even been described as the "poster boy" of real estate in Ogun State. Presently, we have recorded over 700 subscribers from both home and abroad. And we have almost 100 building approvals in Pelican Valley Estate Kobape due to our approval status too. It wasn't easy getting it in the first instance but after we have had it, I realised that it truly worths it. Today, we are also doing farm estate, we have just got the approval for its layout and it is the first of its kind in the life of this administration in the state.
So, I wouldn't mind using the last kobo in my account for proper documentation of my estate going by the positive experiences I have had with property documentation with the present administration in Ogun state.

What would you tell your existing and potential clients concerning investing in Pelican Valley package?
My advice to prospective, potential and existing clients is that they should continue to trust us, most especially our clients in diaspora, you have already trusted us to get your land and we have delivered in record time, you should not patronise quacks who would use fake documents to obtain building approval for you. It will backfire later. At Pelican Valley Estate, obtaining approval for your building is easy because of our relationship with the ministry based on following the due diligence process. We will continue to uphold the ethics of town planning rules and building code ethics because we are getting values for it and we will always encourage our clients to do same.