Controversies have continued to trail bids by members of the Governing council of Federal Polytechnic Ile Iluji, Ondo State  to appoint a Rector for the institution.
Oppositions within and outside of the Polytechnic are kicking against alleged plans by members of the Council to put forward an unqualified candidate for the vacant position of Rector.
The Daily Crucible gathered that some of the council members were plotting with the Rector of Lens Polytechnic in Kwara State, Dr Ebeloku Iyanda Ademola to ensure his smooth emergence as the Rector of the federal polytechnic.
Ademola Ebeloku, an immediate past Dean, School of Business and Management Studies, Federal Polytechnic Offa, Kwara State,  was in May 2022 appointed Rector of Lens Polytechnic, Offa.
The announcement was made in a statement at the time by the Lens Poly acting Rector, Dr. Olarongbe Afolabi.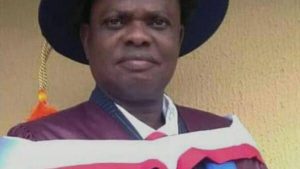 Dr. Ademola
However, The Daily Crucible further gathered that Ademola has been shortlisted as one of the qualified candidates for the vacant position of Rector at the Federal Polytechnic to the chargrin of people in some quarters.
Tbeir argument is that Ademola is a serving Rector of another polytechnic.
The Federal Polytechnic, Ile-Oluji had in a publication in a national daily stated that  anyone who had held the position of Rector in any tertiary institution is not qualified to apply for the vacant post.
According to the position of Rectorship advertised in publication of the newspaper of September 16, 2022, previous holders of the position in any tertiary institution need not apply.
It added, "The present Deputy Rector, Registrar, Dean, Student Affairs and Head of Personnel at the Federal Polytechnic, Ile Oluji are all from Osun State which does not represent the principle of Federal Character as a Federal institution."
An investigation conducted by our reporter however, revealed that Ademola was shortlisted as a qualified candidate and also interviewed for the position of the Rector even when he is still holding the same position in another institution at Lens Polytechnic, Offa in Kwara state.
Findings also revealed that some officials of the institution Governing council have allegedly concluded plans to appoint Ademola as the new Rector of the polytechnic which was against section B of the additional information on the advertised publication of Leadership newspaper edition of September 22, 2022.
It was discovered that Dr. Ebelolu Iyanda Ademola had earlier applied to the Federal Polytechnic Ado-Ekiti and the Federal Polytechnic, llaro for the position of Rector where he was disqualified based on the fact that he was not qualified for the same reason of holding a similar position at Lens Polytechnic, Offa.