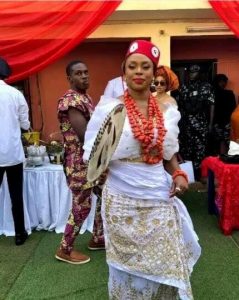 Awards winning author and writer, Chimamanda Ngozi-Adichie, has been honoured by Abba community and the traditional ruler in recognition of her literary prowess and proclivity.
She was crowned as 'Odeluwa Abba' (The Writer of Global Influence & Acclaim) chieftaincy title.
Odeluwa is the first of its kind to be bestowed on any writer or author on this side of the world.
She hails from Abba in Njikoka LGA of Anambra State.
The ceremony took place at the 45th Ofala/birthday celebration of His Royal Highness Sir Leonard Nwankwo Ezeh in Awka, Anambra State.
The certificate given to her reads the title was bestowed on the bestselling author in recognition of her contributions to the development and welfare of Abba community.
Governor Chukwuma Soludo of Anambra State, Governor Godwin Obaseki of Edo State, Obi of Onitsha; Nnaemeka Alfred Achebe, Chimamanda Ngozi-Adichie's hubby, Dr Ivara Esege among other eminent dignitaries graced the colourful ceremony.
She is the author of the award-winning debut novel Purple Hibiscus and Half of a Yellow Sun.
The chieftaincy title is attestation that Chimamanda's kindred recognised not only her contributions to the development of her Abba community but also to literature and intellectual development.