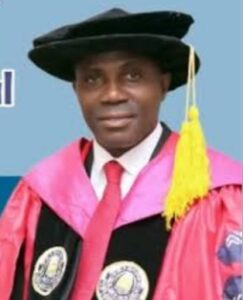 •
Prof. Adeyemi
An educational management expert, Prof. Olumuyiwa Babatunde Adeyemi, has called on the three tiers of governments to enforce the nation's Universal Basic Education (UBE) Act which prescribed various  punishments, including one month jail term, for parents who failed to enroll their children and wards in school for the UBE free and compulsory primary and junior secondary education.
The Daily Crucible reports that Section 2 (4) of the Nigerian constitution states, "A parent who contravenes section 2 (2) of this Act commits an offense and is liable-(a) on a first conviction, to be reprimanded;(b)on a second conviction, to a fine of N2,000:00 or imprisonment for a term of 1 month or to both; and Section 3 (1) states that the services provided in public primary and junior secondary schools shall be free of charge and that A person who receives or obtains any fee contrary to the provisions of subsection (1) of this section commits an offense and is liable on conviction to a fine not exceeding N10,000:00 or imprisonment for a term of 3 months or to both."
On Tuesday,  Prof. Adeyemi who identified non – enforcement of the prescribed sanctions on erring parents as partly responsible for the increasing number of 'out -of – school children' in the country, which he puts at well over 10million as of 2019, lamented that there has not been any known record in the country of parents that were punished according to the Act for not sending their children/wards to school for the compulsory basic education.
The Daily Crucible recalls that UNESCO 2022 report indicated that an approximately 20 million Nigerian individuals of its approximately 200 million population are not enrolled in school, with the northern part of the country accounting for the largest number of out of school children.
But delivering his lecture titled, "Reversing The Tragedy Of Universal Basic Education Implementation In Nigeria," being the 112th inaugural lecture of the Olabisi Onabanjo University (OOU) Ago Iwoye, Ogun State,
the Professor of educational management, further lamented that rather than enroll such innocent and neglected children in school, a number of the erring parents have resorted to subjecting them to child labour and turning them into domestic servants or hawkers.
He warned that if the various punishments stipulated by the the UBE Act on punishing erring parents and guardians remained unenforced, the country's resolve to universalize basic education and make it available to all its citizens in order to "achieve the desired 100% literacy rate within the shortest possible time" would be defeated.
"The issues of out of school children and child labour have been linked to the workability pattern of UBE Act in terms of implementation and enforcement. The Act prescribed punishments for erring parents or guardians who failed to enroll their children for Basic Education.
"However, no one has been so punished despite astonishing evidence and statistics showing high percentage of out of school children, dropout rates and child labour," he said.
He decried the abandonment of the practice of appointing education officers for the purpose of surveillance and arrest of children of school age found roaming about or hawking when they ought to be in school, saying it had made the offending parents to keep stalling the efforts of the governments at reducing the nation's level of illiteracy.
He advised that the Education Officers' role should be reactivated to compel erring parents and guardians to do the needful or face the prescribed sanctions.
Prof. Adeyemi also suggested the establishment of Neighbourhood Alert Group(NAG) in communities, towns and cities to serve as informants to Education Officers or relevant authorities on out school children and those involved in child labour to enhance prompt execution of the appropriate actions on offenders.