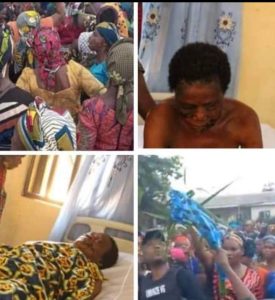 . .
Women took to the streets of Umunze community in Orumba South local government area of Anambra State on last Tuesday to protest the alleged rape and ritual k!lling of a 72-year-old woman, Mrs. Charity Okoli, by her domestic worker and his accomplices.
Late Mrs. Okoli had her breasts, finger, tongue and private part harvested while alive after the suspected ritualists had violated dignity her at her home two weeks ago, according to reports.
The victim was rushed to the Chukwuemeka Odumegwu Ojukwu University Teaching Hospital Amaku Awka for treatment, but died afterwards.
The prime suspect, Onyebuchi Ezeh, has been arrested, and had  confessed that he and others were sent by an unnamed native doctor to get the needed organs of the victim for money making ritual.
It was expected that the ritual would make them become billionaires.
According to LIB report, the suspect further confessed that they are a gang of five that resides in the neighbouring Ezira community before the incident but are now at large.
Ezeh is currently cooling off his heels at the State Criminal Investigative Department (SCID) of the Anambra State Police Command in Awka while two others are on the run.
The protesting women with green leaves and placards also demanded a mass exit of all Abakiliki Indigenes out of Umunze town for the atrocious and condemnable killing of Mrs. Okoli.
The women took their complaints to the Umunze Area police command headquarters, the palace of His Royal Highness, Igwe Promise N. Eze and the Transition Committee Chairman of the local government Hon Neville Uchendu as well as other relevant bodies.
Traditional Ruler of the Umunze community Igwe Promise Eze, on his part, lamented that his subjects have suffered so much in the hands of the Abakaliki people who came to the town to do farm work and other jobs.
He noted that the victim died due to loss of blood which made her to be unconscious after she was rushed to the hospital in Amawbia where she later died, a development that angered everybody.
The monarch however urged the people of the area to remain calm as police and leaders of the community are working round the clock to ensure that justice is done at the end of the day.