… Celebrates Housewarming In Style
Real estate practitioner, Ambassador (Dr.) Babatunde Adeyemo, shocked his loyal staffers on New Year Day with plots of land in one of the Pelican Valley's elite estates situated at Kobape and Massa axis of Ogun State.
Dr. Adeyemo who is the CEO of Pelican Valley Nigeria Limited, the foremost real estate firm behind Pelican valley Estate, Pelican Brief Estate, Pelicans Ecostay Apartments and Pelican's Greenish Acres farm Estate – all in Abeokuta – Kobape and Masa corridor of the Gateway State, gifted the plots of land along with valid title documents to the beneficiary – staffers as rewards for their loyalty, integrity, patience and commitment to assigned duties.
The lucky staffers – 'Yemi Adebayo and Bolanle Olusiyan, who were neither expecting it nor ever thought of owning land anytime soon in the estate that has become the haven of the upwardly moving members of the society, were palpably shocked beyond measure when Adeyemo generously handed over to them, documents pertaining to the land.
The multiple awards winning realtor presented the plots of land to Adebayo and Olusiyan on Sunday during the housewarming ceremony of his personal residence built within the estate where muslim leaders, family members, friends, business associates and clients joined him to pray, thank God and merry around for the accomplishment.
Dr. Adeyemo said the rewards to the beneficiaries were meant to acknowledge their diligence and honest-service delivery to the company, disclosing that they merited it because of their commitment to the growth and success story of Pelican Valley.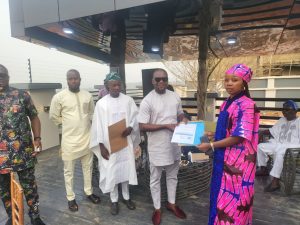 He urged their colleagues in office to always be truthful and loyal, saying the immutable law of sowing and reaping is a perfect pay master and rewarder for whatever one does in life.
He reminded them that the company had  adopted a reward system that tilts towards 'Carrot-and-Stick' approach regarding employee – employer relations.
According to him, the real estate firm will not hesitate to apply the one applicable to any staff.
On the house warming, he disclosed that it took 8 years to complete the house in the estate, saying while the construction lasted, he lived in a one-bedroom apartment, an irony that made some of his neighbours at the time to wonder if truly he was  a CEO of an Estate.
He also recalled that he abandoned a luxury personal apartment in Lagos as a sacrifice to achieve the dream of Pelican Valley Estate, testifying the Estate is now one of the best in Ogun state as rated by Google.
He even challenged people to search it out on the net to verify the assertion, stressing that he achieved the feat by putting high premium on providing basic infrastructure and adding values to property as evidenced in his Estate boasting of fully armed security and electrification among others.
Corroborating, a client and landlady in one of the estates, Mrs Adedotun Adedehinbo, recalled with joy to have invested in Pelican Valley package, vowing to do more business with them in the future without hesitation.
"When we wanted to buy land at the Estate, I was in doubt, so I have to pursue him with my husband to re-confirm the authenticity of the estate, today I'm happy that we bought the land and I do a great thing as well.
"We met fully energized electricity here, fully armed security guards to ensure our safety, in fact, no Estate like Pelican Valley," she said.
Also, one of the lawyers of Pelican valley Nigeria limited, Bar. Hazan Yakubu, who doubles as one of the neighbours of the CEO in his earlier apartment, described Dr Adeyemo as an "epitome of humility and an open-minded person with great spirits."
The lawyer noted that some of the things that endeared the Pelican Valley to him, are the firm's high emphasis on documentation, Goodwill and integrity which, he added, distinguished her from others.
"One thing I like this man for is that he emphasizes documentation which is what most of the clients are interested in.
"He is an epitome of humanity, he is a great man with a great spirit and an open-minded person," he said.