Enthusiastic investors desirous of contributing their quota to the nation's cocoa production and its supply value chain are working on plans to set up a farm for it within the Pelican Greenish Acres in Ogun State.
The investors, it was learnt during the week, intend to kick start the project on 140 acres of land in phases. And barring all unforseen circumstances, they have projected at least 190 tons of cocoa yield and N100m or more in turn over yearly after the first harvest.
Improved cocoa breed gestation period – from planting to first harvest is about 3//4years duration while the current prevailing price of cocoa per ton falls between N1,150,000 and N1,350,000 in the market. The project also expected to create over 250 direct and indirect jobs in Ogun State.
An Ibadan, Oyo State based Cocoa production consultant, Mr. Abiodun Adedokun, who was taken on a guided tour of the Pelican Greenish Acres by the CEO of Pelican Valley Nigeria Limited, Dr. Babatunde Adeyemo and some management staff of the firm, expressed satisfaction with the proposed farm site, the accessibility,soil formation and the ecosystem.
Adedokun who noted that Cocoa production is a viable project because of its significant economic importance as it generates export revenues, income and jobs, said the market for cocoa is also quite predictable as it forms an important raw material in confectionery, food and beverage industries as well as in the pharmaceutical and cosmetics industries.
He expressed the confidence that regardless of the quantum of tonnage produced or how large the farm is, there will always be enough and ready market to clear the produce or the processed products from the producer(s).
He, therefore, advised prospective investors in the project not to hesitate in venturing into cocoa farming, saying provided adequate and necessary cautions have been taken into perspective regarding disease incidence, pest infestations and theft, a wise investor in Cocoa production would always have cause to thank his stars yearly.
Also, another consultant, Muritala Olawale hailed the Pelican Greenish Acres project, saying it has high prospect for success. He noted that while the marshy area of the site would be ideal for catfish, vegetables and fruits farming, the non – marshy section, he advised, should be devoted to cocoa.
He also recommended building green houses where necessary for maximum yield and profitability.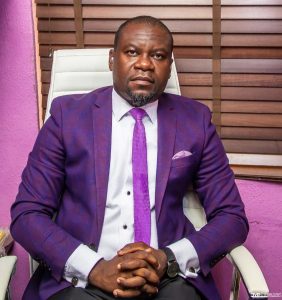 •Dr. Adeyemo
In his his remarks, Dr. Adeyemo said the Pelican Greenish Acres is an offshoot of Pelican Brief estate.
The realtor said that apart from the cocoa production, the real estate firm is also venturing into organic food production such as snail, catfish, vegetables and fruits farming to purposely cater for the needs of the Lounge, Restaurant and short time Airbnb Lodgers at the ongoing Pelican's Ecostay apartments – all within the sprawling Pelican Brief estate and environ.
Adeyemo, an ICPC Anti Corruption Ambassador said the essence is to build a sort of an interconnectivity, interdependency and self – sustaining community between the Pelican Brief estate, Pelican'Eco stay Apartments and Pelican Greenish Acres Farm estates, Kobape, to promote healthy diet and healthy living among clients and estate residents, tourists and landlords.
In his words: "We want to take full advantage of the hospitality business in our Estate and the strategy is to grow what we eat as fresh as possible and also create value added products for export, taking full advantage of the new Ogun State Agro Cargo Airport which is just in our neighbourhood.. We have perfected our plans by delivering our Estates on the Ogun state Masterplan, through the Government approved layouts we have secured on all the Estates.. The implications of this is that our Estates and farms are already on the state Masterplan and would not be affected by any present or future lands acquisition by both present or succeeding Government in Ogun state.
"I would want to use this medium to urge prospective and potential investors, most especially the Nigerians in the diaspora to always play safe with their funds by going for lands with government approvals and approved layouts. Land banking is great but can also be disastrous when it's not secured… Awoof will always run belle," the Pelican CEO added.