By Ayobami Ife, Abeokuta
A business finance expert says Nigerian banks are not performing better than the operators of the Point of Sale (POS) service system on cash transaction matters, saying the recent Naira redesign and cash – less policy of the Federal Government and the Central Bank of Nigeria (CBN) exposed them.
The expert, Prof. Adebiyi Abosede, said that the banks were not only ill- prepared for the 21st century digital banking challenges, they have also not been doing anything to add values to their customers save to extract costs from them through hidden charges, stressing that it is now difficult to see any difference between them and the POS in terms of performance.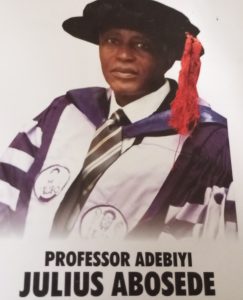 Abosede noted that when customers go to the POS operators, they pay service charges, in the same vein, when they go to their banks whether for withdrawal or deposits, banks also charged them, wondering why they should be made to pay charges when banks are using their money (deposits) to trade or do business.
He spoke with our reporter on Tuesday shortly after his lecture titled, "Managing Enterprise: Trends, Travails and Takeaways" at the 108th Inaugural lecture of the Olabisi Onabanjo University (OOU), Ago -Iwoye.
"The POS is point of sales. So, when you go to POS and want to take money from them, you are more or less buying money from them, that is why you have to pay charges. If you go to banks these days, and make withdrawal, you will pay charges. If you make deposits, they will still charge you. Isn't it? And they still use your money to trade.
"So, banks will take your money to trade and make money but charge you for using your own money. That is the area of the hidden charges. In addition, when they give loans, what you will see is interest rates but not the other charges they will put in the package such that at the end of the day, a 30 percent interest rate for example, will now look like 37 percent rate. These are the issues, that is why I said, banks (in Nigeria) are not performing and they are even making money by using your money. They make money by charging you for using your money."
Earlier in his lecture which was chaired and declared open by the University Vice Chancellor, Professor Deji Agboola,  Abosede identified the great importance of the nation's Micro, Small and Medium Scale Enterprises (MSMEs) which constitute members of the informal sector.
The Business Finance guru said the MSMEs are critical to employment generation and Gross Domestic Product (GDP) of the country but pointed out that lack of access to loans, unsafe working conditions, mode of ownership, conflicts with local government officials, unfavorable market conditions among others as the challenges hampering their effectiveness in operations.
He, however, suggested that the operators of the informal sector should undertake capacity building programmes, learn how to keep record of their operations and form cooperative societies to access credit while government should develop better intervention schemes for them as panaceas to their problems.