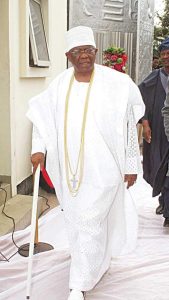 Otunba Olasubomi Balogun, who died in London on Friday, May 19, 2023, was the founder of First City Monument Bank, the first fully owned indigenous commercial bank in Nigeria.
In an interview, the Oloori Omoba of Ijebuland revealed how his friend,  neighbor and former Vice President, Late Chief Alex Ekwueme, helped him to establish the bank.
What exactly did Alhaji Otiti, the former Deputy Governor of the Central Bank of Nigeria do to help you in establishing FCMB as you eulogized him during his 90th birthday?
I am a very appreciative person when you do any good for me and I was happy to give that testimony publicly. I am doing also the same thing with Alex Ekwueme. What I did at that time was unheard of in this country. For an individual to singlehandedly says he wants to create a bank. In those days they wanted me to go and bring an Oyinbo (Caucasian) as a foreign technical partner. Beyond that, in the history of Nigeria's banking industry, I think there was only one person who started something he named a bank. It was Agbonmagbe Bank started by the late Chief Okupe. He was only doing what we called money lenders enterprise. It is a statue that allows somebody to lend money and other things, nothing more. But to say that you want to set up a bank, provide financial services, and have branches all over the place without a foreign technical partner, this country has never seen it. I was inspired by my God.
Naturally, human beings feel nothing is impossible with God in control. It was Alhaji Otiti and the former Vice President, Alex Ekwueme that God used to assist me in doing what many people thought was impossible.
In the case of Otiti, he was a deputy governor of the Central Bank of Nigeria. Someone in the Central Bank had mentioned to me earlier that I will not be given a license because I don't have a technical partner. Do you know my reply? I said God is my partner.
I knew some people in Central Bank then. Ola Vincent, Alhaji Otiti, and a few others. Something just happened to me, I told my driver to drive me straight to Otiti's house. When I got to Otiti's house, the house help told me that Otiti had gone to the Governor's (of CBN) home to break his fast. Straight we went to the Governor's house. As I was about to come out of my car, I became emotional and I started shedding tears. Those at the gate rushed inside to inform Otiti and the governor. They came out and met me and I said, big brother, these people want to scuttle my ambition. They said because I don't have a technical partner, I will not be given a license to run a bank. I said so many emotional things. Otiti calmly said Subomi, don't worry, the governor and I will arrange something provisionally, which will enable you to run that bank, and later on you can look for a foreign technical partner. I didn't think it was possible because another Central Bank official had said, no way. Otiti was the first person to put my mind at rest.
But Otiti and the Central Bank at that time were not given the license.
I had a friend, Alex Ekwueme. We had been friends before the war and he came back. So, in the church, in the Cathedral, my wife and I planned that when Alex, is being led out that I will hold his dress and my wife will grab the dress of his wife. When we made the move as planned, the security people felt something was wrong with us. But Alex looked back and said Subomi, Bimbola what is happening? Do you know what I said to him? You will read the story in what I am writing about Alex.
I said Mr Vice President, why are you not giving me a licence. My wife went to his wife and said, Bee, my husband wants something, only your husband can give him. If you read my book it is there. Alex said I should come and see him. He assured me that the following Thursday, I will get my license. By 3 pm on that Thursday, a minister telephoned me and said, Egbon, congratulations, the vice president said your license has been approved. That was how the floodgate of Nigerians owning commercial banks started. When I had my license people were amazed. Some people even said, if you have a license, it means I am a multi-millionaire or your father will go to jail. But I am a person who is always grateful to my God and appreciative of whatever you have done for me. What Otiti did for me was to give me hope. But Alex ( Ekwueme ) rammed it in and gave me the license.
Now that Alex Ekwueme has died what are you doing to immortalize him going by what he did for you and your company?
I am sure my institution will be doing something during his funeral. I am personally in touch with his family. You just be patient till when the burial starts. I will give you the whole story. What I did to him, he didn't forget. I can tell you. During the war, many of our friends from the East just abandoned everything they have and ran away. The war was so hot that many people didn't think there was any hope of staying in Lagos.
The first house I built in my life was No 4 Bombay Crescent, Apapa. Alex's house was No 6. As soon as the war started, pool stakes seized his house, and were playing pool there. They will be there till midnight or near morning. I wanted to protect my own house. I don't want people to jump into my own house from Alex's place and bungle my house or rob me.
The first thing I did was to arrange with the police to evacuate them to protect myself. I did not want to leave the house lying fallow. So, I renovated the house and rented it out to a lady who came from the East, Uloma Nwachukwu and I was collecting rent.
When the war ended, Alex returned to Lagos and he came to see me and said, Alex, I am pleased to see you. I went into my room and I brought out a big envelope with raw cash and I gave it to Alex. I told him, I renovated your house and I rented it and this is the rent we collected from it. Alex couldn't believe it. All he said was Mike, I am grateful. That was how the friendship started.
He now said, for what you did for me let us do something together for the returnees from the war zone. I said what can we do? He said we should be selling building materials to rebuild the war-torn areas. It is in my book.
So, we started a company called Renaissance Builders Merchant. Renaissance because it is the East. We were buying plywood and all sorts of building materials. Alex's brother, Lawrence was the salesman. We were making raw money.
Every week, we will do the balancing of our accounts. Every Sunday, after service, I will go with an envelope, Alex, this is your share of the profit we made. We were making some money then.
That friendship was so close that when I first went to open my first branch in his country home, the people gathered and broke kola nut. I made sure I established the branch of the bank on a property owned by him.
It was a Christianly or godly relationship.
So, God used Alex for me and God also used me for Alex. It is a lesson for Nigerians.
Credit: Encomium.ng, January 2018.