King Charles crowned as he officially takes the title of His Majesty in historic first C
Amid pomp and circumstance, Prince Charles has formally been crowned as King Charles III on Saturday in a historic first Coronation in 70 years that revealed long held, cherished, revered and one of the most preserved monarchies in the world.
Prince Charles was crowned at  Westminster Abbey in London by the Archbishop of Canterbury, Justin Welby.
By this elevation, he officially takes the title of His Majesty King Charles 111.
He was crowned while seated in the Coronation Chair, holding the Sceptre with Cross in his right, gloved hand and the Sceptre with Dove in his left hand. He was crowned with St. Edward's Crown, which was created in 1661 and will only be worn during the ceremony.
After the crown was placed on his head, the bells at Westminster Abbey rang for two minutes. King Charles was then escorted from the Coronation Chair to the throne.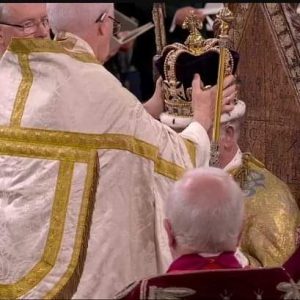 Before the crowning, King Charles was presented with the coronation regalia.
He was first presented with the spurs, which "symbolize knighthood," followed by the Sword of Offering; two armills made of gold, known as "bracelets of sincerity and wisdom;" the Coronation Orb, "symbolising the Christian world" with three sides representing the three continents known during medieval times; and the Sovereign's Ring, representing commitment and is not worn during the ceremony.
Charles then was presented with the coronation glove, the same one his mother wore during her coronation, representing him as advocate and challenger for the protection of the people. He was then given the sovereign's sceptre with cross which represents "the sovereign's temporal power," and the Sovereign's Sceptre with Dove, which represents "the sovereign's spiritual role."
Credit: LIB