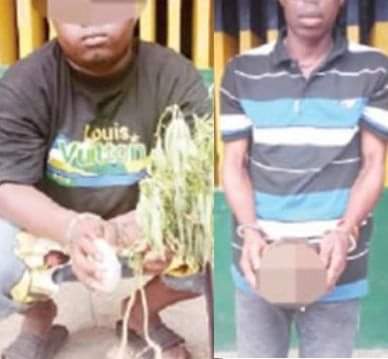 | The Daily Crucible | Monday, November 14, 2022
By Mick Oseji, Asaba
An internet based scammer popularly called Yahoo Yahoo boy and a herbalist identified as Ike, aka Ogenesu, are cooling their heels in police cell after they caught with human parts.
The suspects were arrested after policemen attached to the Obiaruku Police Station recovered the suspected human parts at the herbalist's place in Obiaruku, Ukwuani Local Government Area, Delta State.
The suspect was driving around 5.20pm on Friday, October 28, when five policemen who were on a stop-and-search duty flagged his vehicle down but he rebuffed them.
The policemen chased after him, finally caught up with him and upon
searching the vehicle, they found a note specifying the need for human parts, according to Punch.
"The instruction on the note was that the man should provide a human head, hand and leg. After recovering the note, the policemen asked what he wanted to use the specified items for and out of fear, he said it was for something," a source told the publication.
"So, the policemen embarked on full investigation by visiting the Obiaruku Police Station to obtain a warrant to search his three-bedroom flat and while searching his house, they obtained another written note requesting the same items in the first written note that was found in his car."
The police officers detained the suspect and during interrogation, he mentioned the herbalist Ike.
The suspect led policemen to the herbalist's place, and while searching the premises, a decomposing corpse was found beside a fish pond.
However, Ike claimed the corpse is that of his child.
He said: "It was my child that was buried; I dug the grave and removed the corpse from where it was buried."